We made another Band of Brothers mix, this time strictly ensemble. Enjoy!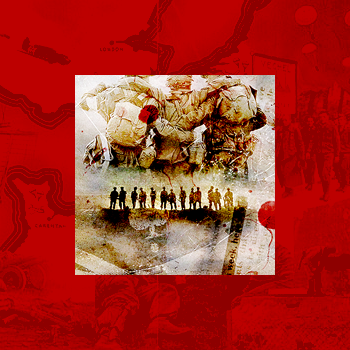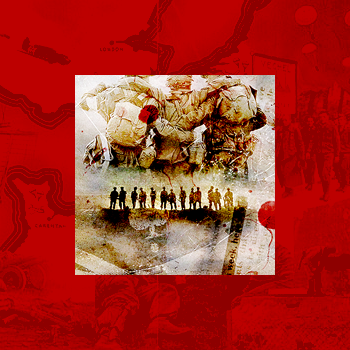 catching bullets in our teeth + a band of brothers mix:
upon this tidal wave of young blood + clap your hands say yeah
there is danger in the night
there are things we can't control but
will we give ourselves a fright
when we become less than human?
witness blues + aa bondy
so make yourself a mask of chrome and heartaches
and give yourself a hand to turn away
once you heard a choir when you were dreamin'
and you wish you could remember it today
you and me and an x-ray machine + the maple state
there's an army of thieves out there waiting for me
they'll take what they want leave my bones in the street
sleeping sickness + city and colour
someone come, someone come and save my life
maybe I'll sleep when I am dead
but now its like the night is taking up sides
with all the worries that occupy the back of my mind
could it be? this misery will suffice
fallen on the world + slowreader
hey fellow fool
you seem to be moving slowly
scattered in smoke
filled rooms forever empty
the night starts here + stars
the scary part, the aftershock, the moment it takes to fall apart
the time we have, the task at hand, the love it takes to destroy a man
this is the thing + fink
and the things that keep us apart
keep me alive
and the things that keep me alive
keep me alone
crosses + jose gonzalez
crosses all over, heavy on your shoulders
the sirens inside you
waiting to step forward
disturbing silence darkens your sight
we'll cast some light and you'll be alright
the twist + frightened rabbit
the twist is that you're just like me
you need company, you need human heat
forever after days + the national
on my feet I stand tonight, stand and step up to the light
an extraordinary man unbroken in the breaking light
heretics + andrew bird
how about some credit now
where credit is due
for the damage that we've done
we have brought upon ourselves and others
metal heart + cat power
blue smoke will take a very violent flight
and you will be changed
and everything
and you'll be in a very sad sad zoo
believe + the bravery
something's always coming you can hear it in the ground
it swells into the air
with the rising, rising sound
and never comes, but shakes the boards and rattles all the doors
the stars shine in the sky tonight + eels
the stars shine in the sky tonight
like a path beyond the grave
when you wish upon that star
there's two of us
you need to save
bullets + tunng
we're catching bullets in our teeth
and though it's easy when you know how it's done
they split the secret up six ways before they gave it to us just before dawn
and now we don't remember
talking with fireworks / here, it never snowed + the twilight sad
and does your fear not grow
when you see that you're all mine
+ .zip +