Who wants an epic collection of Band of Brothers EPs? I know we sure did. Features five separate mixes. All graphics done by
fiorie.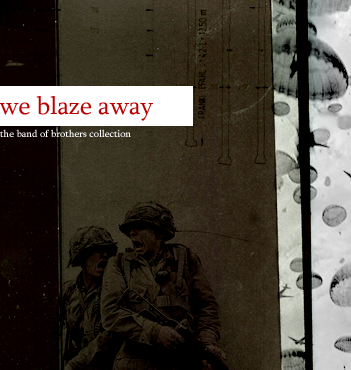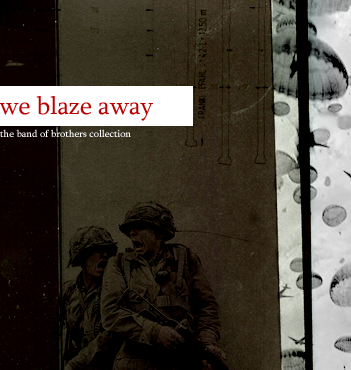 we blaze away :: the band of brothers collection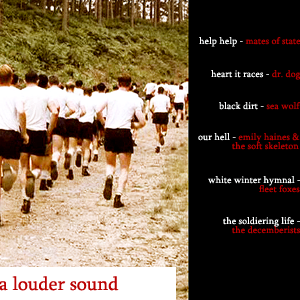 a louder sound :: ensemble
[
help help :: mates of state
]
Oh, oh
We're laying down
Oh, oh
So we can listen to the ground
[
heart it races :: dr. dog
]
and we're slow to acknowledge the knots in the laces
heart it races
and we go back to where we move out to the places
heart it races
[
black dirt :: sea wolf
]
and when you kill you'll only leave
black dirt under your feet
[
our hell :: emily haines & the soft skeleton
]
we're moderate, we modernize
'til our hell is a good life
all we know what to forget…how to do right
coloring in the black hole
[
white winter hymnal :: fleet foxes
]
and, michael, you would fall
and turn the white snow red as strawberries
in the summertime
[
the soldiering life :: the decemberists
]
but you,
my brother in arms,
I'd rather I'd lose my limbs
than let you come to harm
[
a louder sound :: .zip
]
you run with the devil :: ronald speirs
[
autoclave :: the mountain goats
]
and I am this great, unstable mass of blood and foam
and no emotion that's worth having could call my heart its home
[
dear sons and daughters of hungry ghosts :: wolf parade
]
I got a hand
so I got a fist
so I got a plan
it's the best that I can do
now we'll say it's in God's hands
but God doesn't always have the best goddamn plans, does he?
[
your protector :: fleet foxes
]
keep your secrets with you
safe from the outside
[
the weight of lies :: the avett brothers
]
the weight of lies will bring you down
and follow you to every town
[
you run with the devil :: .zip
]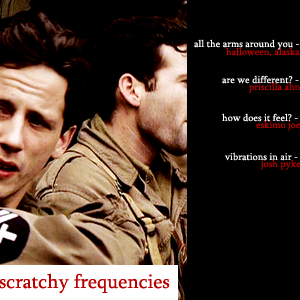 scratchy frequencies :: joe liebgott/david webster
[
all the arms around you :: halloween, alaska
]
all the arms around you now
could they ever catch you then
first they tell me not to fret
then you frighten me again
[
are we different? :: priscilla ahn
]
look here,
the fight is starting
as we near the people are parting
oh my, my tired soul
[
how does it feel :: eskimo joe
]
you live so much, its like you're dying
you can't give up, your body's trying
[
vibrations in air :: josh pyke
]
what I fear
is that all of these things I hold dear
never become more than vibrations in air
[
scratchy frequencies :: .zip
]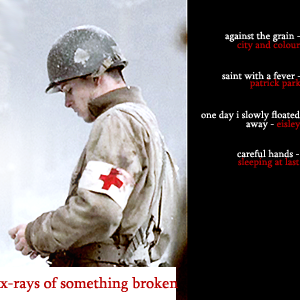 x-rays of something broken :: eugene roe
[
against the grain :: city and colour
]
when all your friends have come and gone
and the sun no longer shines
and the happiness for which you long
is washed away like an ocean's tide
[
saint with a fever :: patrick park
]
you hollowed the space
where they darkened the ground
wth weary precision
you lowered them down
[
one day i floated away :: eisley
]
one day I slowly floated away
all the war horses wore rubber bands
to hide their hooves from sinking sand
[
careful hands :: sleeping at last
]
put your coat on, this city trembles
keep your chin up, as you untangle God
from cold blood and bruises
[
x-rays of something broken :: .zip
]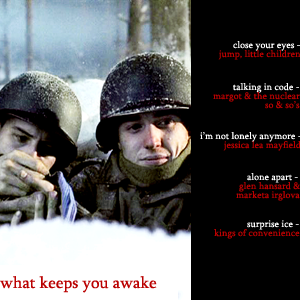 what keeps you awake :: eugene roe/babe heffron
[
close your eyes :: jump, little children
]
please, close your eyes
please, what keeps you awake
[
talking in code :: margot & the nuclear so & so's
]
but I've been tired
from the minute I woke
I stopped listening
the moment you spoke
[
i'm not lonely anymore :: jessica lea mayfield
]
I feel safe now, I feel good
I'm not lonely anymore
[
alone apart :: glen hansard & marketa irglova
]
we're drifting, drifting alone apart
not to show that we're in need
but I'd heal your wounds if you bleed
[
surprise ice :: kings of convenience
]
the air is like a knife cutting through you
a room in the house is always warm
[
what keeps you awake :: .zip
]