We've made another
Skins
mix, this time for Sid/Cassie. Contains spoilers through the end of Series 2. All graphics done by
fiorie
.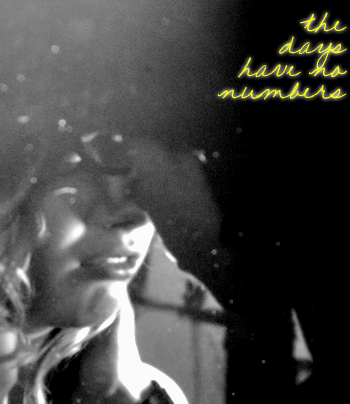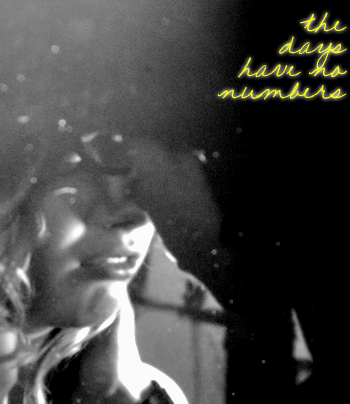 the days have no numbers :: a cassie/sid fanmix
[Nicest Thing :: Kate Nash]
All I know is that you're so nice
You're the nicest thing I've seen
I wish that we could give it a go
See if we could be something

I wish I was your favorite girl
I wish you thought I was the reason you are in the world
[Too Many Stars :: Let's Go Sailing]
But if you were mine
I wouldn't mind looking at the sky.
If you were mine
There'd be plenty of stars
And not too many.
[In the Aeroplane Over the Sea :: Matt Pond PA]
But for now we are young
Let us lay in the sun
And count every beautiful thing we can see
Love to be
In the arms of all I'm keeping here with me
[No One Will Ever Love You :: The Magnetic Fields]
Where is the madness that you promised me
Where is the dream for which I paid dearly
[Dancing :: Elisa]
Time is gonna take my mind
and carry it far away where I can fly
The depth of life will dim the temptation to live for you
If I were to be alone silence would rock my tears
'cause it's all about love and I know better
How life is a waving feather

So I put my arms around you around you
And I know that I'll be leaving soon
[Unpredictable, Illogical :: Green Pitch]
You apologize but don't change
Stranger with a well-known face
And I might just lie when I say
I don't miss you
[Arms :: Seabear]
Shake my arms, shake my head
I fell asleep in your cobweb
And I'm turning off all the lights tonight
Saw you in a crowded bar, pale with hungry eyes
[So Desperate :: The Mountain Goats]
And through the warm radio static
I couldn't hear my stage directions
And the fog on the windshield
Obscured our sad reflections

I felt so desperate in your arms
[Find My Love :: The Avett Brothers]
How can you tell when goodbye means goodbye
Not just for now, for the rest of your life
How can you stand there with love in your eyes
And still be walking away?
[Clean Getaway :: Maria Taylor]
I finally made it
I made a clean getaway
And I miss you
I miss you every single day
[Abacus :: Fionn Regan]
I've been chasing your room
While the summer lasts
So count it on your fingers if we got it wrong
It's because the days have no numbers
If we leave tonight then we leave it all behind

[::.zip::]